Education
Part of what makes the Disney Program experience so unique is the education component. While on your Program, you may take part in several educational experiences you won't find anywhere else! Even the work component of the internship has been recommended for credit by American Council on Education.
Our education program is designed to give you a comprehensive, experiential-learning opportunity which will provide an unparalleled enhancement to your academic and professional careers.
Participation Requirements
Disneyland College Program
Registration and participation in at least one educational offering per term during your program is required. To learn about available offerings during your program, please visit http://dorms.disney.com/learning.
International College Program
Depending on your visa type, you will be required to participate in an educational offering during your program, Please check with your home school, university, or institution on your specific requirements.
Walt Disney World College Program
Participation in educational offerings is not required but highly encouraged. Please talk with your faculty and advisors to discuss any requirements they may have for your participation in the available educational offerings.
Available Courses and Offerings
To learn about available offerings during your program, please visit http://dorms.disney.com/learning.
Career Development Opportunities

These offerings will expose you to the various career development opportunities the Walt Disney Company has to offer. These offerings range from online learnings to networking events, and career focused seminars.

Seminars

(Disneyland Specific)

These seminars are designed to provide an overview of various lines of business at Disney and to offer networking opportunities with various leaders within the parks and resorts.

Seminars

(Walt Disney World Specific)

These seminars provide participants the unique opportunity to learn about how the Walt Disney World resort operates in key areas and how they 'do business'.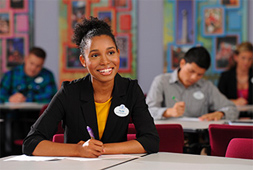 Term Dates & Registration Communication
Participants with eligible program dates will receive a message regarding the upcoming Education Term taking place during their College Program within a few weeks of registration becoming available. This message will provide the following information:
Term dates
Registration dates
Information about available offerings
How to prepare for registration
Based on course term dates and program dates, not all participants may be able to participate in Disney Education Courses. Contact the Education Office if you are unsure which course terms are available during your program.
To learn more about current offerings, please visit DORMS.
Getting College Credit
Talk to your school or university about your credit options. Talk to your advisor about credit options for your participation in the program. Students usually earn college credit for the Disney College Program in one of two ways:
Many departments within a college or university have internship courses that allow you to earn credit for internship experiences. Although they often require you to be a junior or senior, our program may meet the requirements for your major's internship course.
Many schools offer online coursework, independent study or distance-learning options.

Walt Disney World Only - Dedicated study time is available for those participants taking online classes, called Distance Learning. To learn more about this, please visit DORMS.
The American Council on Education
ACE (American Council on Education) is the major coordinating body for nearly 1,800 of the nation's colleges and universities. They are the only major higher education association to represent all types of U.S. accredited, degree-granting institutions: two-year and four-year, public and private. To learn more about ACE, please visit http://www.acenet.edu.
Internship Documentation Requirements
Credit for participation on the Disney College, Culinary & International Programs is determined by your college or university. Please check with your faculty and/or advisors regarding potential credit options.
Changes have recently been made to streamline the process for schools requesting completion of internship approval forms and/or articulation agreements. If your school falls into this category and you'd like to learn more information, feel free to contact us with specific requests at Support.DisneyPrograms.com.
Please allow 24-48 hours for response time for us to review your request.
Exam Proctoring
Walt Disney World College Program ONLY
As an additional learning resource for our Disney College Program students, the Education Office provides proctoring assistance for any student participating in online or Distance Learning classes. Proctoring services are available Monday-Friday in the Vista Way Service Center building, Computer Lab Proctoring Room. Click here for more information.